Once upon a time, "pornography" was dirty. It was something to hide beneath the matress in a greasy paper bag - a stained altar of shame. But soon after Burt Reynolds won an Oscar for his portrayal of a porn producer in "Boogie Nights," the floodgates opened. Not only was hardcore horse-fucking available on computer screens around the world, but now it was "respectable." The E! network began interviewing porn starlets about html programming; sex kittens like Jenna Jameson modeled clothing for Fresh Jive; and even gang-bang survivors like Annabelle Chong had their stories immortalized in art-house documentaries.

Can a multi-billion dollar skin trade, widely acknowledged in the mainstream with a wink and a smile, really be considered "underground"? Today, pornography is part of the mainstream, no more dangerous than Brill's Content or Pop Tarts. In fact, porn's newest marketing spin is how "hip" it is. That's right: jerking off = cutting edge. We might as well put Ron Jeremy on the $20 bill and call it a day.

At this rate, I boldly predict casual erotica will crop up in every nook and cranny of our lives--even in places that have absolutely nothing to do with sexual intercourse. Our nation is on its way to becoming a giant, throbbing, erect battleship searching for a port.

I've seen the future, and it is hot, wet, and wants to call you "Daddy."

Behold!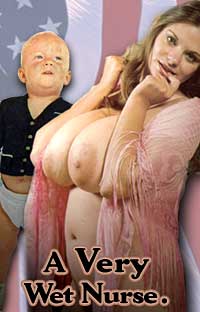 Porn Daycare. In August, 2001, "A-B-C-Dildo" a small, hip nursery in Van Nuys, California opens its doors to the public. The center will feature a Montessori-based curriculum for the pre-kindergarten set that includes lap dances for toddlers and extended sessions of breastfeeding with the "Very Wet Nurse" of their choice. Kids can fingerpaint on various erogenous zones and relax in an afternoon spa boasting personalized golden showers. Snacktime meals include PB & jism and strained peas. Applications are now being accepted; unfortunately, the lion's share of applicants have been balding, overweight men in their late 40s.

The S&M Supermarket. Screw A&P. This fall, Ft. Lauderdale, Florida, will be home this fall to "S/M," the 2.5 acre sadomasochistic supermarket warehouse that caters to lovers of gourmet food and discount bondage. Want nipple clamps and tofu enchiladas? Vegetable potstickers and intermediate ass worship? It's all here! "S/M" also features a delivery service, where, for an extra fifty bucks, the customer can enjoy the delivery person beating them with the fresh produce they've just ordered. "S/M" may be the only supermarket in the United States that requires its members to sign insurance waivers, but then, for nice, clean bondage & domination under the hum of flourescent lighting, who wouldn't bend over and drop their John "The Wadd" Hancock?

Fetish: From Parker Brothers. America's favorite board game makers will introduce a saucy new game for XXX-Mas 2001. "Spin the wheel/It's a game of chance/Suck on Grandma's boot/Or sniff her filthy underpants!" goes the catchy jingle. Fetish promises fun for the whole family, particularly if Junior wants to find out about Mom's anal beads, or Uncle Mike's hot diaper love. Psychologists and clergymen across the nation will applaud this new game for bringing deviant sexual behavior back into the home.


"The family that fetishizes together stays together," boasts the Reverend Donald Wildmon. Early sucess of Fetish will promt Parker Brothers to plan updated versions of its traditional games, including "Pantyland," "Chutes And Boners," and, of course, "The Uncle Wiggily Game."

Erotic Mechanics. In January 2002, Nevada auto magante Charles Foster Dodge will unveil his plans for a car service chain giving new meaning to the words "jiffy lube." Dodge believes that waiting for the car to get fixed is the dullest time in a post-modern man's life. For $29.95, a customer will get a tire and testical rotation from a qualified "mechanic", and for $49.95 - the deluxe package, including an oil change, new spark plugs, and champagne rim job. Is this illegal, you ask? Not in Nevada! And because you can't let alcohol-saturated customers drive, they will offer cut-rate lodging at an adjacent Motel 69, "where room service is nude service." Families will be welcome.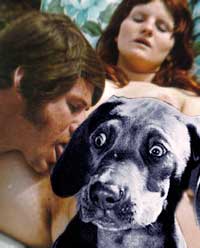 Veterinary Vixens. Who says humans are the only perverts in the animal kingdom? "Pound-A-Hound" is a spicy new animal hospital opening next winter in Simsbury, Connecticut.

Dr. Dirk Bellows, author of the book "Can Your Pussy Do The Dog?" posits that some of the world's sauciest sexual exploits are definitely performed with four-on-the-floor. He firmly believes this new trend will help pets better cope with stress.

"If you were locked in a bedroom all day, you'd get horny too," Dr. Bellows says. "When dogs chew on the couch or hide your socks, they're telling you they need your help. They need to get laid."

After a flea bath with one of "Pound-A-Hound"'s talented geishas, domestic pets will be able to watch a video of sex performer Annie Sprinkle teach clawed Persian cats the secret delights of fisting. Role playing scenarios will be available for both fish and birds, allowing them to transform themselves into sexy French Maids, wild Village People, or even sexier kinds of fish and birds.

"If WE can let cheap sex saturate every fiber of our existence, why not let the animals have a go at it!" bellows Dr. Bellows over the sound of a chihuahua enjoying a high colonic. "Fucking is a way of life! Hell, without fucking, there IS no life! God, I love this country."


EDDIE SCHMIDT loves children, dogs, and dick jokes.