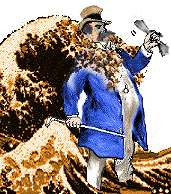 History Fun Facts!
When: January 15, 1919
Where: Downtown Boston where the New England Aquarium stands today.
How: It is believed that a quick rise in temperature (from 2 degrees above zero on 1/12 to 40 degrees above zero on 1/13) caused the molasses in a storage tank at the Purity Distilling Co. to burst out of the tank.
Results: 21 people killed, 150 injured. 2.2 million gallons of molasses were released, pouring out of the tank in 8- to 15-foot waves. It moved at speeds of 35 mph, with a force of 2 tons per square foot. The flood destroyed buildings, crushed cars and knocked over elevated train trestles. The company paid $1 million in damages.
Source: The BPL Reference Desk --discovered by David Zubkoff

Testicular Trauma: Thoughts of Designer Impostor Body Spray


Back to document index

Ooze Magazine
The Journal of Substance, Wit,and Dangerous Masturbatory Habits