Hollywood Plate of Fame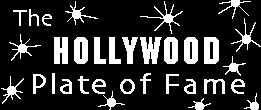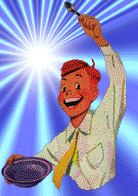 ---
Arnold Schwartzenegger & Maria Shriver have Schatzi. Dennis Hopper, Peter Fonda & Dwight Yoakam rev up their cycles at the hash slingin' Thunder Roadhouse. Even Steven Spielberg dishes up deli sandwiches at Dive. Celebrity restaurateurs are nothing new to Los Angeles, but in the last few years, they've become ubiquitous. It seems you're not really somebody in this town unless you've got a fancy chef cooking up risotto "just the way you like it" for the teeming masses. Is there anyplace to eat in this town that isn't at least PARTIALLY owned by a famous name? (Okay, maybe Jack In The Box, but I hear Tom Bosley's itching to get in on that action).

In an effort to warn potential "name" investors of the risks involved with this sort of business venture, I've contacted our 1-900 astrologer who has "seen" a number of personality-driven restaurants in the future that are better off never opening their doors. Before putting any money down, it's worth gazing into the crystal ball for the sometimes grim possibilities.
---
EATERY: Benihana Backdraft!
INVESTORS: Ron Howard, Kurt Russell
STYLE: Flame broiled Japanese cooking...at 350 degrees Celsius! World renowned firefighters bring their favorite recipes to life right in front of your face. Watch as wok, hose and extinguisher work hand in hand to tempt your taste buds.
DRESS: Asbestos
SPECIALTY: Teriyaki Tongue Lasher, Soot Fried Rice
LOCATION: Universal Citywalk
FATE: Liquor license taken away almost immediately.
EATERY: Wacky Hut
INVESTORS: "Weird Al" Yankovic, Carrot Top, Gallagher
STYLE: Uber fast-food. Twinkies, SPAM, and marshmallow fluff...on a sesame seed bun! Waiters and waitresses play accordion, tell knock-knock jokes, smash watermelons.
DRESS: Clown attire, Devo-style chemical suits, anything Hawaiian
SPECIALTY: Cherry Lime Chili Dog, Hot Fudge Halibut
LOCATION: Melrose
FATE: Attracts hip crowd for awhile but no one will actually touch the food.
EATERY: Limey's
INVESTORS: Patrick Stewart, Anthony Hopkins
STYLE: Very British. Stewart reads from the collected works of Dickens every evening at 8:00 sharp. Latecomers get slapped on the wrist by stern headmaster.
DRESS: Smoking jacket, pipe, and bad teeth.
SPECIALTY: Fried shepherd pie with chutney glaze
LOCATION: Westwood
FATE: Visiting group of London punks is so riled up by the oppressive system they slice Stewart's throat and torch the place.
EATERY: Rah Rah Riot!
INVESTORS: Robin Leach, Rodney King
STYLE: The excitement of urban anarchy, every night at dinner. Loot for your food. Take shots at cardboard cutout of Daryl Gates. Burn down, then eat, fake city skyline actually made out of marzipan.
DRESS: Whatever you can find
SPECIALTY: Stolen TV set Wellington
LOCATION: Beverly Hills
FATE: Massively successful until Rush Limbaugh is gunned down during midday Christmas lunch.
EATERY: Northern Lights
INVESTORS: Ivan Reitman, Bryan Adams, Paul Shaffer
STYLE: Unpredictable, spontaneous, irresistible: Canada. Old fashioned Canuck food the way your mom cooked it, eh?
SPECIALTY: The Brew and Hide Breakfast: 240 oz mug of Molson w/plate of back bacon
LOCATION: Sherman Oaks
FATE: After big-name celebrity rollout, the question sets in: what exactly IS Canadian cuisine? Shaffer attempts to revive image by getting Letterman to broadcast show there for a week; Letterman's merciless ribbing causes Alberta to secede from nation.
EATERY: Der Brat House Baywatch
INVESTORS: David Hasselhoff
STYLE: German fare with that California beach twist. Hasselhoff croons hits from the "Night Rocker" album while giant fake wave engulfs the crowd after dessert. Stays on hand to perform CPR if necessary.
SPECIALTY: Shrimp tostadas with schnitzel, goat cheese struedel
LOCATION: Malibu
FATE: Closes within three months. Fall 1996 launch of Munich restaurant becomes biggest boon to the German national economy since Hitler.
EATERY: Cruel Fate Cafe
INVESTORS: Judd Nelson, Andrew McCarthy, Anthony Michael Hall, et al STYLE: Snotty cuisine served up by former waiters turned actors who have now been forced to take their old jobs back. Agents and producers eat half price.
SPECIALTY: The Breakfast Club Sandwich; Meatloaf at Bernie's
LOCATION: Hollywood apartment complex
FATE: More job applicants than possible customers; ugly scene ensues when diner Robert Downey Jr criticizes Judd Nelson's reuben sandwich.
Immediately after this last entry Zoltar, one of our many in-house psychics, went limp and whispered, "No more!, no more!" Poor guy.
Asses of My Youth
Ooze Magazine
The Journal of Substance, Wit,and Dangerous Masturbatory Habits