Get Shorty
Everybody wants to be in pictures these days. Everybody. Gangsters, drug-dealers, even movie producers will do just about anything to see their names scroll boldly across the silver-screen. And while I wouldn't go so far as to call it a trend, or even a spate, this fall it seems that Hollywood is at its best when it's making movies about itself (or its small-screen relation as in To Die For) and our own fascination with the medium. Strange Days too touches, albeit inelegantly, upon this fascination: the uncanny urge to see ourselves iconified, painted in light, huge, glowing and immortal.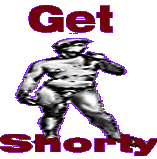 Whatever the source of this primitive longing it's been making for some good times at the movies. Get Shorty is the latest movie to go behind the camera and show just what it takes to get a picture made. And as Chili Palmer, loan-shark turned movie-mogul observes after throwing a stunt-man turned heavy down the stairs of a swanky LA eatery, "It's a tough business, this movie business."
A lot of the characters in Get Shorty are turned something -- and most often it seems they're turned producer. For the obvious reason, as our man Chili notes, "Producers don't have to know anything." There's the limo service owner turned drug-dealer turned wanna-be producer and the B-movie queen turned producer. They all share the dream of making movies
Based on Elmore Leonard's novel of the same name, Get Shorty is the story of the quest for that Hollywood dream. The story follows Chili Palmer, a collector for the Miami Mob, out to Hollywood to get 300 big ones off a dry-cleaner who owes Chili's boss some money. Once he gets out to the coast, however, Chili decides its time for a change. The life of a collector just doesn't offer him the latitude he needs to express the creative side of his nature -- and besides, Chili loves movies. Not so much a gourmet as a gourmand, he can quote as effortlessly from Touch of Evil as from Slime Mutants from Beneath. Hollywood, it turns out, is Chili's kind of town.
The plot of Get Shorty is adeptly convoluted -- there are a lot of players and a lot of competing interests but director Sonnenfeld, a tightly written script and an excellent cast keeps the film light on its feet. Get Shorty is an actor's movie and at times the cast seems to be having so much fun that they can hardly keep themselves from laughing. It was especially great to see Gene Hackman get his ass kicked. I was getting a little tired of seeing Gene playing the vicious, grizzled old bastard. Gene's rebirth as the pompous, self-centered, wimpy hack producer Harry Zim was a pleasure to watch. Rene Russo provides a nice contrast as Zim's droll girlfriend; a B-movie actress cursed with a great scream and brains. Danny DeVito is hilariously absurd as the omnipresent star Nathan Weir and (What's His Name--Limo Service Owner) is slick and mean and a wonderful counterpoint to Chili Palmer.
At the center of Get Shorty is Hollywood's hottest re-rising star, John Travolta. While his performance in Pulp Fiction was overrated, especially compared to Samuel Jackson's, Travolta is definitely the man as Chili Palmer. What Travolta has shown himself to posses is not incredible good looks, nor a great range of emotion but that most ineffable, and lately forgotten bit of star quality -- charm. There is hardly a moment in Get Shorty in which Travolta does not have a smile on his face. He doesn't grin or leer or smirk, he just smiles; smiles because he is just so damned pleased to be here.
Chili reminds me of Robin Hood. Errol Flynn's Robin Hood. He exudes confidence and charisma and charm. He is witty without being condescending and unfailingly polite, even if to someone pointing a gun at him. Chili never takes offense and would really like things to work out, to spread his joy to everyone.
Get Shorty goes a long way towards spreading that joy. The comparisons to Pulp Fiction and to The Player are inaccurate. Get Shorty isn't the cutting edge of cinematic hipness nor a cynical look at the dark innards of the Hollywood machine; Get Shorty is doesn't strive for brilliance. It is content to be that unicorn of Hollywood -- a good story, well told. We would all do well to do as Chili says when he tells us, "Looks at me."
by zakkk@aol.com
Read more of the Movie Guru's Reviews
Return to the Ooze Home Page>