DOWNLOAD OOZE'S
"AWARD WINNING"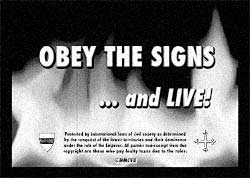 SHORT FILM

IIFILM - fastest best way to see this film.

QUICKTIME
DSL etc. (12.1 megs)
MODEM (2.2 megs)

HI-QUALITY MP4
DSL etc. (11.8 megs)
MODEM (3.1 megs)

WINDOWS MEDIA
DSL etc. (8.5 megs)
MODEM (2.6 megs)

Download a hi-res postcard for fun.


OBEY THE SIGNS... AND LIVE!

(running time: 4:30)
Signs.
They're everywhere you look, telling you something urgent, explaining the rules. Why? If you don't obey the signs, something could happen to you. Something terrible.
Obey the Signs... and Live!
explores what happens when undesirable citizens disobey the rules. Rules are in place for a reason, and signs quickly and effectively tell you what to do. We
all
suffer when you become disobedient.
It's never too late to cure yourself of reckless sign ignoring behavior. When you see a sign, read it, understand it, and
obey
it.
WINNER of "AWARDS"
(admire those official-looking palms!)