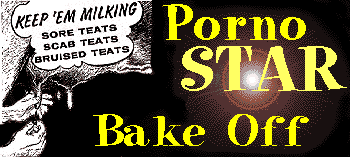 Ooze is ecstatic to introduce our first ever ADULT ENTERTAINER Bake Off!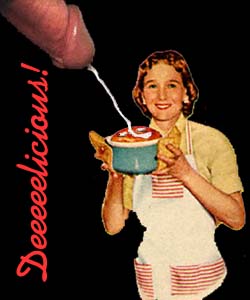 Are you an adult entertainer, actor, or model who cooks on screen and off? Are you tired of people saying you rely on your looks and "fuck me!" face to get by in the world? Then this is a golden opportunity to show off your true talent! Quick! Get out that old notebook and rolling pin and commit to some hardcore, yeast churning, con-cock-tions!
When you're fully satisfied, send us your best recipe. Our staff of unskilled and untrained cooks will do their best to recreate your meal. The winner will be invited (if you live outside L.A. we'll pay for your bus fare and you can sleep on MJ's couch) to re-create their meal here in the Ooze kitchen. Or maybe not. Either way your meal will be featured in the next issue of Ooze along with your picture (fully clothed or not), your bio, and your award-winning recipe. If you really want us to, we can post a picture of you naked, eating your confection.
Here's our first entry:
---
Name Barb Bush
City: Van Nuys, CA (Porn Capital USA!)
Job: I have big boobs.
Where you can find her: Stripping 6 nights/week at Jumbo's Clown Room in Hollywood.
Turn on's: Fast cars and falafel.
Turn off's: Scrabble.


Tuna Bush
People always ask me at the club, "Barb, how do you stay in such perfect shape?" and I always say, "Tunafish!" I hear you snickering, but it's not what you think. (That kind of sandwich has no nutritional value!)

Here's what I like to eat:

1 can of tuna (in water)
1 teaspoon of fat-free mayo
3 stalks of celery (for texture)
1 bunch of sprouts (for "Bush")
1 dash of salt (not too much!)

Mix all this in a small bowl and spread it on some whole wheat bread. I don't recommend you spread this on your lover's thighs, however because it will really smell like an Alaskan cannery, and I should know! Now your sandwich is now ready for eatin'!
---
Please submit your best recipe, a photo, and a list of your movies, strip club appearances or a description of the type of adult work you do to: spoot@earthlink.net
---

My 5th Grade Prose
Cultural Footnotes


Back to the Table of Contents