In Ooze #10, we decided to poll our readers so we could serve their acute humor needs better, by e-mailing them ads, porno come-ons and pyramid schemes. From your 3,164 replies...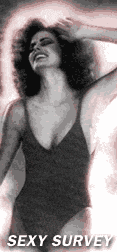 WE FOUND OUT A FEW THINGS ABOUT YOU:
11% of respondents gave us a bogus e-mail address
99.7% of respondents did not mail us a check.
0.003% of respondents exchanged sexual favors with the editors.
96.4% of respondents aren't as funny as we are.
104% of respondents had a lot of money they really really want to spend on products that advertise with Ooze.

WE FOUND OUT A FEW THINGS ABOUT US:
We can't program a working cgi form if our lives depended on it.

THE SMELLIEST ROCK STAR:
A surprising number of people elected not to respond to this, as they have never smelled a rock star. The top 5 replies were Jerry Garcia, Kurt Cobain, Jimmy Hendrix, and Janis Joplin - all obvious choices since they are dead - and Betty White, since she is old.

MOST OFFENDED BY:
Retarded Nigger - 42%
Gerald Ford - 23%
Piss Sucking Cunt Face - 17%
Fucking Fat Faggot - 11%
No Answer - 7%

HOW WILL YOU HELP OOZE ACHIEVE GLOBAL DOMINATION?
Nobody really came through with this. We ARE VERY DISAPPOINTED. For sample responses, see SURVEY SAMPLES

IF YOU COULD KILL JERRY SEINFELD, YOU WOULD:
Yell, "What's the deal with this lead pipe?" as you bash his skull in with one - 38%
Run him over with one of his 9 Porches - 23%
Plant a literal Booby Trap in (now ex-) girlfriend Shoshanna Lonstein's breasts - 15%
For "Other" responses, see SURVEY SAMPLES

WHEN I SAY "HIGH SCHOOL," WHAT HOT MEAL DO YOU THINK OF?
Ms Richardson - 48%
Roast Pig on a Bun - 14%
Swedish Pizza - 6%
For "Other" responses, see SURVEY SAMPLES

HAVE YOU HAD SURGERY?
Yes - 30%
For "Excruciating Details," see SURVEY SAMPLES

THE WEIRDEST PLACE YOU'VE SEEN BODY HAIR:
Undecided - 32%
Inside vaginal cavity - 22%
Behind tibia - 9%
On top of head - 4%
For "Other" responses, see SURVEY SAMPLES

ARE YOU RICH?
No - 96%

WHY HAVEN'T YOU GIVEN ALL YOUR MONEY TO OOZE?
No one really came up with a good excuse, but see SURVEY SAMPLES anyway.

YOUR SPACE
Based on your responses, you didn't really take the time to impress us. Make us laugh, monkey-boy! See SAMPLES below.

SURVEY SAMPLE RESPONSES

THE WORST SURGERY I'VE HAD IS...
A large oozing cyst had formed on my rectal sphincter It was full of hair and oozed pus and blood constantly It was lovely, but it had to go. I had a surgeon pull apart my sweaty, hairy asscheeks and carve that lovely little pocket of putrid pleasure right out and sew my bleeding asshole back up. I couldn't sit for a week, but I was too doped up on percocet to notice.

WHY HAVEN'T YOU GIVEN YOUR MONEY TO OOZE?
Spent it all on mastrubatory aids and a garlic press

YOUR SPACE
My garlic press - I love it. I want to cram my penis into it and squeeze little cock-bits out through the holes Unfortunately it's a one-shot, so i'm saving it for a special occasion.

I think it would be awfully nice if I just had a few spare penises laying around, then I could fuck all the garlic presses, tenderizing hammers, badgers, and cow-milking devices I want.
-anatolym@contex.com
----
HOW WOULD YOU HELP OOZE ACHIEVE GLOBAL DOMINATION?
Ve vill ccccrush ze competitors vith our bare feests unteel zey cry mercy.
BUT THEY WILL GET NO MERCY!

HOW WOULD YOU KILL JERRY SEINFELD?
Run 10,000 Amps through his standup mike

WHAT'S THE WORST CAFETERIA FOOD IN YOUR HIGH SCHOOL?
Chicken-fried steak with instant mashed potatoes and gravy

THE WORST SURGERY I'VE HAD IS...
When I was in 1st grade I fell on a sharp piece of concrete that split my skull open. I got on my feet and walked around for a minute, dazed, until eventually a teacher saw me and started blubbering incoherently. I only started freaking out when I put my hand on my head and noticed the blood gushing from the wound. Then I started freaking out. They called my mom and I went to the emergency room where they stitched my head closed. I was awake the entire time, bawling with snot running down my chin.

YOUR SPACE
I have always wanted to have sex with a computer
-Bogus@razorback.uark.edu
----
HOW WOULD YOU KILL JERRY SEINFELD?
Sodomize him with a 31" HDTV

THE WORST SURGERY I'VE HAD IS...
First, the doctor, grinning evilly, cut into my chest with a rusty scalpel, roughly digging through my subcutaneous layers. Ripping back the flesh, then the muscle beneath to expose the rib cage. Using a saw to get through hard cartilage, he reached my beating heart, pulling it out and offering it to the AMA. Oh wait....that was when I played doctor with my late little sister. I've never had surgery myself.

WORST LOCATION FOR BODY HAIR YOU'VE EVER SEEN IS...
A girlfriend's (one date!) breasts

YOUR SPACE
Get a GE toaster oven. It's one of the few you can drop into a full bathtub, electrocuting wives/girlfriends/family members and it still works afterward! Though the timer occasionally has to be replace. Make sure there's no emergency circuit cutoff either... Better yet, just forget I said anything, Father
-talysmn@pacbell.net
----
HOW WOULD YOU HELP OOZE ACHIEVE GLOBAL DOMINATION?
After single-handedly overthrowing a small third-world country, I will install Matt and friends as a puppet government. You will then have a convenient base from which to smuggle drugs and Ooze to more prosperous nations. This will encourage the American government to subsidize your government in hopes of curtailing the smuggling. HA! Then with American support, all is possible.

WHY HAVEN'T YOU GIVEN YOUR MONEY TO OOZE?
Fuck off, bum!

YOUR SPACE
I love Ooze, but not nearly as much as my VCR. I wonder if it's insides are as warm and soft as the porn stars it so often displays.
-frenzer@best.com
----
WHAT'S THE WORST CAFETERIA FOOD IN YOUR HIGH SCHOOL?
Unidentified 'soup' remnants

THE WORST SURGERY I'VE HAD IS...
An incision was made behind my left ear. A small object was placed inside my head, behind and slightly below the ear lobe, near the base of the skull. This tiny metallic object, while invisible to any medical examiner, is indeed real, and can see my every move. Sometimes it controls my thoughts, I can feel it cause me to change disposition, changing from a normal guy one minute to a rage of emotions the next. Sometimes it communicates with me. I can hear it tell me to do things. I usually ignore it, but not without consequence. I have to go now, gonna be in trouble if I don't go to bed like it says. OH NO LAAAAAAAAAAAAAAAAAAAAAAAAAAAHHHHHHHHHHHHHHHHHHH

WORST LOCATION FOR BODY HAIR YOU'VE EVER SEEN IS...
Palms of a persons hands

YOUR SPACE
The household appliance I would most like to have relations with is the toaster. It just seems so NATURAL, I mean with the slots and all. There is room enough for two, if you know each other really well. It has variable heat settings, and an eject mechanism if your pecker gets caught. And if you come in it, the jizz sparks. At least, that's the rumor. I wouldn't know. This is confidential, RIGHT?????
-IceManJim@worldnet.att.net
----
THE WORST SURGERY I'VE HAD IS...
i had an orchipexy. they cut above your penis or in your scrotum and pull down undscended testicles. i had this done twice at age 4
-jefflees@mindless.com
----
THE WORST SURGERY I'VE HAD IS...
I had a roofing nail removed from my eye.
-damon@uplex.net
----
HOW WOULD YOU KILL JERRY SEINFELD?
Feed him broken glass until he bled to death
-dr_erick@v-wave.com
----
HOW WOULD YOU KILL JERRY SEINFELD?
Take his brain out via his nostrils using a crochet hook
-fionaj@johnbrown.co.uk (publisher of Bizarre Magazine)
----
HOW WOULD YOU HELP OOZE ACHIEVE GLOBAL DOMINATION?
I'll beat the shit out of the girl using the computer next to me.
edenney@iupui.edu
----
THE WORST SURGERY I'VE HAD IS...
Both nails of my big toes were growing in, so with only local anesthesia I was lucky enough to be able to watch how they put a Huge needle in both and emptied the contents until the toes were swollen enough to have easy access to the nails. It felt like the needles went right through. With iodine to camouflage the blood and a nice tingly feeling afterwards, they set upon slicing parts of the nail and then snapping it off with a dry sound. They cut into the nail-bed to ease the force on the nail making it go in. After the blood had stopped gushing, they nicely packaged my feet into white wrapping with a nice bow tie on the toes. This was later to become red after a 'friend' stepped on them.
-vdmeulen@strw.LeidenUniv.nl
----
HOW WOULD YOU HELP OOZE ACHIEVE GLOBAL DOMINATION?
I have created a communication device, made from pie tins and cable box parts... I will be in contact
-picasso@pensys.com
----
THE WORST SURGERY I'VE HAD IS...
when I was a kid I had my tonsils removed in Spain without anesthesic.
They had a queue of children, waiting, I was the 2nd in, and when I got inside the operating room one of the doctors sat me in his lap and applied some kind of judo maneuver. The other 2 doctors where fighting over how many towels they where supposed to use to clean the blood of the children. While they where fighting they forgot to put me the local anesthetic and just inserted something that looked like a curved pliers in my mouth and pulled both tonsils out. I started to try to scream and cry and the doctor I was sitting on top hardened the judo grip. instead of realizing I had no anesthetic on they started to fight again on how much I was bleeding and on how many towel where available. then they decided to grant me a 2nd towel and when on to remove my adenoids (similar to the tonsils but located far up the troath, going up to the nose) this time they used another plier like tool larger but slimmer and more curved. they inserted it trough my nose and removed the adenoids.

After that they where sending me home but I passed out so they let me spend the day in the hospital. The worst thing was that since I passed out I didn't get ice cream.
-barcillo@ecua.net.ec