BASEKETBALL (1998) Director: David Zucker
South Park's Trey Parker hoists a middle finger to "psyche out" his opponent on the baseketball court. When this fails, he escalates this threat by chopping off the end of his own finger with a pair of pliers. Blood spews forth, but not enough of a geyser to propel the film toward any box office goal post.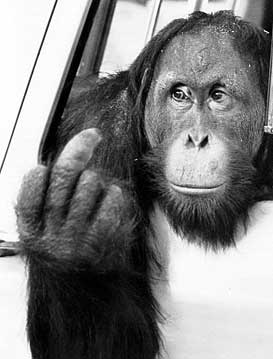 Here, Clyde the Orangutan flips off a motor cycle gang in the 1978 film, Every Which Way But Loose starring Clint Eastwood. This photo, although cleared for use in publications, was not allowed to be published in our book. Warner Brothers claimed they were a, "family company" and wouldn't stoop to anything like this.



BILLY'S HOLLYWOOD SCREEN KISS (1998) Director: Tommy O'Haver
This Sundance favorite boasts two different middle fingers, both gay and straight, proving that the insult is popular with cock lovers and pussy hounds alike. In fact, the film's director, Tommy O'Haver, actually appears in our book THE FINGER, staring over the top of a urinal at a "woman" in a dress flashing him the bird.

OFFICE SPACE (1999) Director: Mike Judge
The "Beavis And Butthead" creator pays tribute to America's favorite bony ingenue by making himself the recipient of a middle finger from a very "Friend"-ly Jennifer Aniston.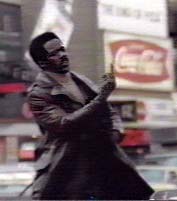 Badass John Shaft flips off a New York cabbie that almost ran him over in the 1971 Blaxploitaton classic, Shaft.

RUSHMORE (1998) Director: Wes Anderson
Young protagonist Max (Jason Schwartzman) starts a fire in the school courtyard, then gives the finger to the headmaster of the illustrious Rushmore Academy who later suffers from a paralyzing stroke.

WILD THINGS (1998) Director: John McNaughton
"Party Of Five" star Neve Campbell busts loose in this big-screen wet dream, giving the finger to bad girl Denise Richards when she taunts her for getting a flat tire. Catfight! Matt Dion gets to in 3 some with both- masturbating. Other finger later ensue when Matt Dillon gets into a threesome with both Campbell and Richards. And them's ?finger-lickin' good!

THE MATRIX (1999)
Keanu Reeves' character "Neo" is offered an ultimatum by government agents: Do a job for them and turn in a friend, and his long record of computer crimes will be wiped clean; or, suffer the consequences. Neo replies to their threats, "Well, that sounds like a really good deal, but I think I've got a better one. How about I give you... the finger.And you give me my phone call..." For about 15 seconds, Keanu's finger stands in unwavering salute as conversation continues; the camera shot focused on the conversation, but set just behind his finger clearly framed in the center of the shot.

Special thanks to readers Airbusciut@aol.com and lisa@gz.bomb.com for this entry.